Resurface Flywheels – WHILE YOU WAIT!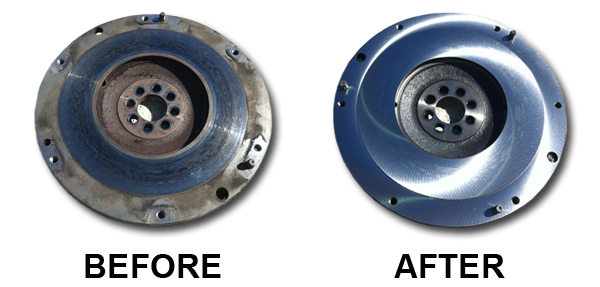 At Advanced Cylinder Heads we will resurface flywheels while you wait! We use a quality CBN style cutter head on our precision calibrated flywheel surface machine. The CBN cutter offers the most precise surface available for reduced break-in time and no annoying clutch chatter versus older vitrified stone cutters. We offer resurfacing on stepped and flat flywheels made from steel or aluminum. Whether you are an automotive owner or a Do-it-Yourselfer, one of the most frustrating things about replacing a clutch is knowing that you have to now wait for someone to resurface flywheels.
At Advanced Cylinder Heads. LLC we resurface flywheels while you wait! We also stock different thickness shims for curtain flywheels when needed. Keep in mind that we offer LUK clutch kits and will install a new clutch for you in the same day if needed. Just call or email us for any questions.
Why resurface flywheels? Resurfacing a flywheel is important for a few reasons. First, replacing clutches are not always the easiest task and most of the time consuming a lot of labor. Choosing not to resurface flywheels when replacing your a new clutch, means you take the risk of your new clutch glazing, not seating properly, chattering, etc. Here at Advanced Cylinder Heads, LLC we understand the time it takes to not only pull the transmission out and replace the clutch, but we also value the time a vehicle is stuck on a lift. This why we RESURFACE FLYWHEELS WHILE YOU WAIT. No need to schedule an appointment or drop your flywheel off and wait for hours, just stop by and hand us your flywheel. We got this!