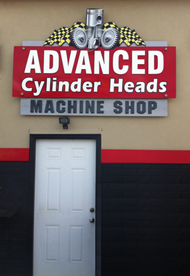 Advanced Cylinder Heads, LLC strives for excellent customer service. If you have had a positive experience we ask you to please click above to leave a Google review. We offer competitive pricing and in most cases can match or beat a quote. If you have a question or comment, complete the contact us form below and we will promptly reply. *For any full service auto repair needs, visit
Auto Mechanic Shop Inc.
Located at the corner of Forsyth Road and Aloma Avenue in Auto Mechanic Shop, Inc., next to Aldi's.
We accept: Cash, Check, Visa, Mastercard, Discover, Diners Club, Traveler's Checks, 0% Financing Available.
Hours: Monday-Friday 7:30am-6pm, Closed Saturday & Sunday.

To apply for employment, please complete this application.
---