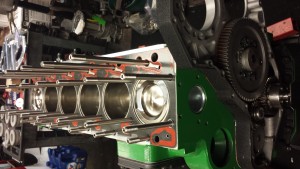 At Advanced Cylinder Heads, we pride ourselves on our expertise with Cummins®, Ford® and GM®  diesel engines. Whether you're needing a basic rebuild or an all-out 2,000 HP pulling monster, we can accommodate your needs in any stage of development, from start to finish or in-between. We know what works and what doesn't in diesel engines because we develop them for our own truck and vehicles. The first step is to call or email us. Let us know what your goals are and we will help you plan your specific diesel engine build or re-build. Keep in mind, your transmission will be part of the discussion as well, which is a service we offer to you as well. All diesel engines are blue printed when built, fired up and checked on a test stand. For performance engine are tuned on a dynamometer (DYNO) At Advanced Cylinder Heads, we offer nationwide diesel builds, diesel repair and shipping.
Diesel Engines Services Include:
• Cylinder head o-ringing
• Cylinder head and block fire-ringing
• Cylinder boring
• Cylinder honing with deck plate
• Camshaft bushing installation
• Porting and intake flange removal
• Tuning for P7100, VP44, and common-rail systems
• Balancing and stress relieving connecting rods
• Complete engine building with initial start
and break-in performed on site
• And much, much more……..just ask us!